ScoliBrace:  Scoliosis Treatment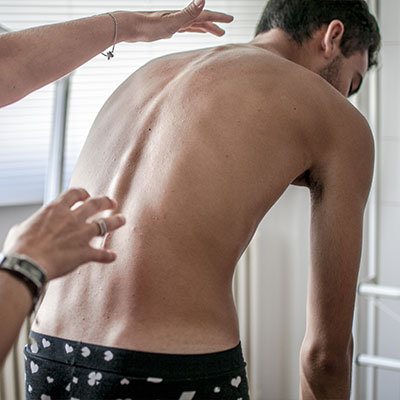 One of the most effective conservative treatment options for scoliosis is bracing. High quality braces like the ScoliBrace offer benefits that are two-fold. This custom bracing solution provides extensive support to not only stabilize the spine, but also gently and gradually guide the spine into better alignment.  The ScoliBrace addresses the 3D aspects of scoliosis that most others do not, which is crucial for success. Plus, it is completely custom made to match each patient''s specific needs.
Creating a Personalized Program that Works
No two spines are exactly the same, and we take that into account. At Bay Area Scoliosis Center, we carefully address each individual's needs while using the most innovative research-based treatment options available. These include:
Creating a custom 3D brace based off of digital scanning and x-ray software to ensure spinal curves are accurately measured and addressed.
Proper education, and applying any final adjustments to the brace with a certified physician.
Mirror-Image specific exercises to ensure realignment, and retrain the body's movement patterns and neural circuitry.
We are dedicated to providing evidence based treatments that work, making Bay Area Scoliosis Center one of the best in Northern California to help scoliotic patients stabilize and restore their spines back to health.
Case Studies
How Can I Manage Mild Scoliosis? Scoliosis is categorized
The ScoliBrace Advantage:
Compared to other braces on the market, such as the Cheneau, Boston, and Hospital braces, the ScoliBrace offers:
Promotes Full Body Wellness
Don't Let Spine Issues Affect Your Quality of Life.
Scoliosis Curve Correction